Lord's Prayer body prayer
Our founder Philip Roderick choreographed the Lord's Prayer body prayer in direct response to an invitation from a visitor to the church where he was vicar. Knowing of Philip's interest in dance, movement, gesture, posture and symbolism this lady from New Zealand asked 'What about evolving some movements inspired by texts from Scripture?' The core prayer in the Jesus tradition provided the first focus, and is regularly used in CF events. Wonderfully, the Lord's Prayer body prayer is now beginning to be used more widely.
The movements are meant to be taken slowly and prayerfully and the words spoken out loud by one person on behalf of the group, with each gesture sculpting the phrases and their meaning or as a solo prayer meditatation.
The DVD Sacred Posture can be purchased in the store. The DVD, containing the Lord's Prayer body prayer together with a number of others is for use in personal or corporate devotion. You can also access a video of Philip leading the body here on YouTube via https://www.youtube.com/watch?v=sxWOfNqobNY
1. Standing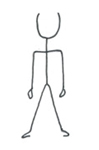 2. Praying hands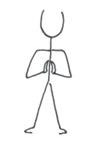 3. Our Father
Raise praying hands above head, extend in a circle and return to praying hands position.
4. Who art in Heaven
Repeat movements for 3 (a), (b) and (c).
5. Hallowed be thy name
Repeat movements for 3 (a), (b) and (c).
6. Thy Kingdom come
(Reverse the previous circular movement)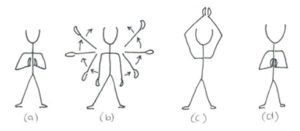 7. Thy will be done
Repeat movements for 6 (a), (b), (c) and (d).
8. On earth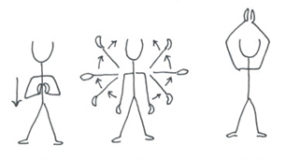 9. As it is in Heaven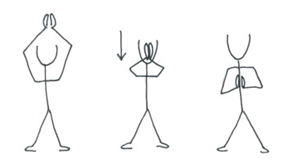 10(i). Give us this day our daily bread
Open hands to about a foot apart for personal petition.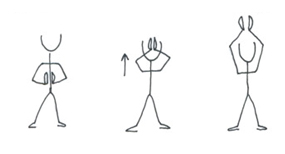 10(ii). Opening in silence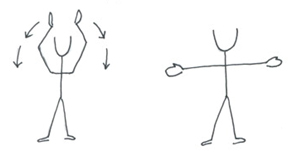 11. And forgive us our trespasses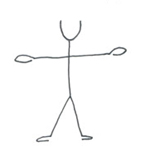 12. As we forgive those who trespass against us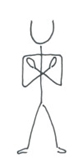 13. Lead us not into temptation
Move the elbows up; the head rises; the arms unfurl upwards.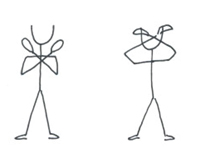 14. But deliver us from evil
The arms open fully on the word 'deliver'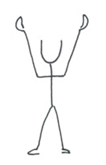 15. For thine is the kingdom, the power and the glory, for ever and ever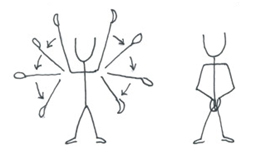 16. Amen
Return to praying hands position.

Click here for a downloadable/printable version of illustrations