Art in the Ark
| Published: 14th of November 2018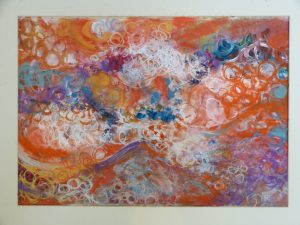 This October, on each Saturday morning of the month, a small group of us met together to explore our creativity and self expression through mark making and painting. The four workshops were held in The Ark, a small personal studio space in Berkhamsted.
Picasso was believed to have said, 'Every child is an artist. The problem is how to remain an artist once we grow up'! So with Charlotte Wright as guide, the Companions, and one participant who wanted to walk alongside CF friends, set out together to explore the process and challenges of making and creating. Charlotte started each session by sharing some of her understanding about the psychological process of creativity, offering her experience and insight as to how it can impact the way we think and feel about what we make, about how we might see our creations.
Our first artwork was drawing together on a large piece of paper, covering the length of the table we were working on, focusing on our own mark-making. We all used charcoal. Our next creation was also in charcoal, again on a shared paper, but this time introducing rhythms of light and dark. We used erasers, adding areas of light by rubbing out the black charcoal.
Then we started to paint individually, using acrylics on paper and a small palette of four colours plus white. It involved colour mixing and discovering the tones of colour that could be made. We carried in mind the idea of horizon, with the intention of painting the paler tints above the skyline and the darker shades below, although the interpretations were very varied and individual!
For our third making, we experimented with layering. We had the phrase 'Setting free into promise' as our inspiration. First we painted two free-style paintings in watercolour. When they were dry we superimposed another layer, on one using chalk pastel and on the other oil pastel. The results were interesting, even surprising.
Finally, for our last time together, we used larger sheets of paper with mixed media, all the mediums we had used so far and a few more including gouache and neocolours. This time our inspiration was a quote from a Rumi poem, 'You are the Sea of fire; we, your foam flaming, falling with each wave…' Our creations can be seen in the accompanying photos.
Although we knew the focus for these workshops was finding expression for our creativity, we realised that they had equally been about meeting together, about our willingness to be open with one another, about sharing our thoughts and at moments our vulnerability. The smallness of our group created a safe space and a place of trust. Each of us has explored how playfulness and acceptance of what 'comes', (even if at times it is accompanied by frustration and not liking what 'comes'!) can help us towards a better understanding of our creative, inner-child self. Here are some of our reflections.
If our God is Creator God, then to release that creativity is to allow something of that Divine nature to exist within us. That is a very deep and scary thought!
The results at the end of each morning were interesting and surprising. We valued each other and through that value, we learnt to value our own contributions.
October was a wonderful month-full of Autumn colour and promise. I went home to buy paper and pastels and watercolours and know that I have been started on a long and exciting journey.
For me, these four mornings were an exercise in taking me out of my comfort zone!
'Making marks' and 'layering' were so antithetical to my own nature and expectations, yet proved to be a fascinating journey, against the grain, even if I didn't like my end results!
Charlotte says: I was aware that I was taking friends into unknown territory and was humbled by their trust as they explored and experimented with me to find new ways forward into their creativity.