Contemplative Fire is a dispersed community of Christ at the edge, inviting us into transformative awareness.
If you wish to be in contact with any of Contemplative Fire's Trustees, they would be grateful if you could direct your message via the Contemplative Fire main contact email info@contemplativefire.org
The Trustees 2017-2018
Caroline Newton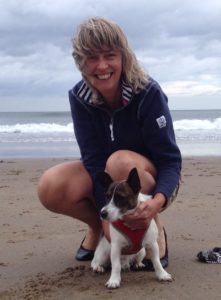 I have been a Companion for the last five years, and have been a member of the newly formed Hub for the last year, a role which I have hugely enjoyed and valued. Living in Nottinghamshire I am part of a small local contemplation group, and we hope to extend CF activities in the Midlands further over the coming year.
I enjoy working on vision and strategy, and have always had an entrepreneurial spirit. Shortly after leaving university I set up a small company distributing giftware across the UK, and today I still work as a director within this business. Six years ago whilst visiting Kenya with a fellow Companion, we were drawn to the plight of a small impoverished rural community. On our return we set up a charity, and today 25% of my time is spent developing projects and sourcing funding for the work there.
I am the mother of three children. The youngest, now 18, has Down Syndrome. After his birth I wanted to ensure that his opportunities were maximized, and I retrained as a Speech Therapist. This led to my delivering speech therapy one day a week to over 20 children with DS for ten years up until 2013. Developing this interest I joined the Board of Trustees of a Special Needs Pre School, and was the Chair of this Board for six years before retiring from this role last year.
In the midst of this naturally active personality I have discovered the truth that I need to balance my 'doings' with interior silence and space. Contemplative Fire has been a home where I can experience this inward journey alongside like-minded individuals, and where I have found support to take the steps of faith the journey has called for. In standing as a trustee I hope to use these varied skills to support the community as we continue to explore what it means to 'Travel Light, and Dwell Deep'.
Charlotte Wright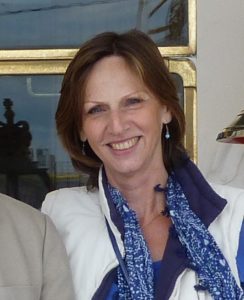 I have been a Companion and involved with Contemplative Fire since its formation.  I am married to Peter, also a Companion.  We have a daughter and a son, and three granddaughters.  We have lived in Berkhamsted for many years.
I have always felt a deep connection with nature.  I was brought up in Cumbria where bird watching and finding wild flowers, following the rivers and walking the fells with their often dramatic contrasts of lights and darks, nurtured my spiritual awareness.  I know this has contributed to my present wondering and wonder about how our humanity rests within God's created world.  It informs my creativity.
My first training was a B.Ed in child education at the Froebel Institute, with sculpture as my main subject.  Later I fulfilled a lifetime ambition and studied painting at St Albans School of Art, graduating in BA Hons Fine Art from the University of Hertfordshire in 1996.  Singing and song writing have also been part of my creative expression, together with prose and poetry.  As an artist-educator, I have led quiet days and retreats exploring creativity and contemplation.  I am also a spiritual director in the diocese of St Albans.
 Elaine Wilkins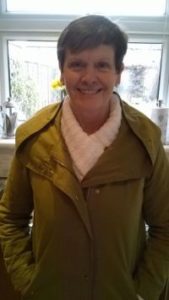 I am a widow with two grown children and I have the joy of having two grandchildren. I have been involved in voluntary work of all kinds for over forty years and I have learnt so much from the lives of others. I followed a call to come aside from activity in the early part of the 1980's and eventually the call to come out of parish life. For the last ten years I have been a spiritual director and for seven of those years I have been a member of a spirituality team.
Discovering different ways of opening my inner/outer life to the Spirit of God has been both challenging and life giving. I decided to approach the community of Contemplative Fire in 2012, having known about it for a few years. I knew I had to live a new way of being church, so in 2014 I became a Companion on the Way. My Christian discipleship continues to be formed and informed by a new experience of community.
Francoise Pinteaux-Jones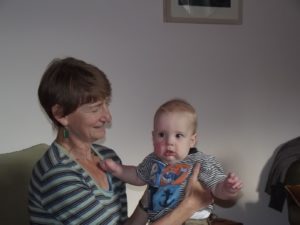 I am the current chair of trustees. I have been a Companion on the Way since 2005. I am divorced and have two grown up daughters and four grandchildren. I taught French in mainstream secondary education for 22 odd years before retraining and free-lancing as a translator. Though very different in their praxis, both professions represent ways to serve, which I see as my calling.
Accordingly I have served diversely on town council, board of governors, Diocesan Committee and sundry organisations. In 2009, I worked three months as a peace observer in Palestine with the Ecumenical Accompaniment Programme in Palestine-Israel for which I still advocate.
A practising Catholic in France, I have been an active participant in the Anglican church for over 30 years, joining the Third Order of Saint Francis some 20 years ago. My tertiary vows and Contemplative Fire's rhythm are the two wings of my Christian living, guiding my commitments and, above all, channelling God's presence into my everyday engagements. Not a frequent presence in church, I nonetheless strive to honour these words of Dietrich Bonhoeffer: "The church is the church only when it exists for others".
Hilary Garraway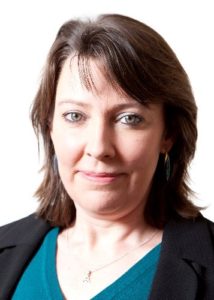 I became a Christian over thirty years ago and come from an evangelical and charismatic church background. I worked with Youth With A Mission (a Pentecostal missionary organisation) for about ten years, with their Christian counselling training programme in Merseyside and helped to set up this counselling training in Uganda. I then moved to East London to set up a community project providing counselling and life skills training to people facing long term unemployment and homelessness.
Over the last fifteen years I have felt drawn to more contemplative and Celtic Christian traditions. I am grateful to God for leading me to Contemplative Fire at a time when my faith was feeling challenged and this has deepened my faith and expanded my view of God. I have valued journeying with others on a similar path, learnt so much from different writers and Christian traditions, valued the challenge to consider the use of language more and the accountability and rhythm that the trefoil gives to my spiritual walk.
I have a busy life and so am continually seeking to maintain this rhythm of action balanced with contemplation. I work full time as a consultant clinical psychologist in the NHS and am on the steering group for the British Association of Christians in Psychology, am the chair of the National Spirituality and Mental Health Forum and the British Psychological Society's Spirituality Lead. Contemplative Fire has influenced my spirituality which helped me to develop an holistic approach to therapy. This has become the basis of a course called "Free to be Me" which combines therapy and spirituality along with elements of art therapy and creative writing.
I am married to Hosten who is retired but works voluntarily as a lay reader and "Pastor to the Seniors" in our church. We have two children, Hayley and Joshua, and a labradoodle dog, Sasha, who shares my country walks which are a key part to my spirituality. Hosten is originally from Grenada and we have had a long term vision of setting up a retreat house there. This is now becoming a reality with the recent purchase of a property which we will gradually restore. I completed a spiritual direction course at the Chelmsford diocese retreat house which was the spiritual home of Evelyn Underhill. The way she described the spiritual life has become my prayer for my own spiritual life – "a spiritual life is simply a life in which all that we do comes from the centre, where we are anchored in God."
Jeremy Timm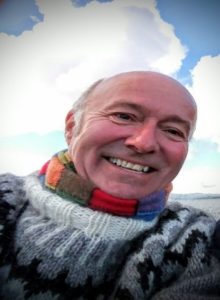 My name is Jeremy Timm, and I live with my husband Mike in a tiny village called Saltmarshe, in East Yorkshire. I first engaged with the Christian faith in the setting of a University Christian Union in Leicester. Following Uni I worked for the Diocese of Hong Kong and Macau, with a missionary society, CMS.
When I returned to the UK, having been selected for training for ordination in the Church of England, I went to Durham, took up my place at Cranmer Hall, and trained fully for the Priesthood. At the end of my training, because of an overwhelming sense of responsibility to a family business, where I was the fifth generation of a flour milling family, I returned to Goole and worked with my family there. I studied for a Masters degree in business administration at Bradford University Business School.
My training in Durham was put to use as I served as a reader for many years in the local Church. I am a Spiritual Director, previously on the York Diocesan register. To continue my interest and passion for theology, I studied for a Masters in Theology and Religious Studies at York St John University.
Following a break in Reader ministry, a few years ago I was granted permission to officiate in a team of six churches. Sadly, my PTO was withdrawn when Mike and I decided to get married. At this point I felt that the Church of England was no longer a place of growth of me, and decided to leave. CF has been such an important part of my journey since those difficult times.
I have been a trustee and Chair of a Charity called Changing Attitude for a decade, working for the full inclusion of LGBT people into the life and ministry of the Church of England. We have been working towards a merger with another Charity, working in the same area – this merger is now complete with the formation of OneBodyOneFaith.
Revd Philip Roderick
Founder of Contemplative Fire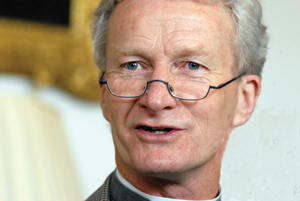 You can see a video interview with Philip about his spiritual background and the founding of Contemplative Fire here.  Also on the Media page are audio interviews with Companions about the lineage of Contemplative Fire.
The Hub
At the Community Weekend in 2016, Companions supported the setting up of The Hub. Over the past two years, The Hub has organised Wisdom on The Way days, a weekend retreat in February 2018, and other core events. They also set up the Community discussion page on this website. If you are a Companion but cannot access it then please let our administrator Tina Towey know.
The current Hub members are Ann Worrall, Liz Okey, Caroline Newton, Jane Johnston, Sharon Roberts, and Helen Fitch-Hunter. They welcome contributions from all towards sharing knowledge, ideas and experience within Contemplative Fire's dispersed community – if you do not know any of the Hub members then please contact our administrator.